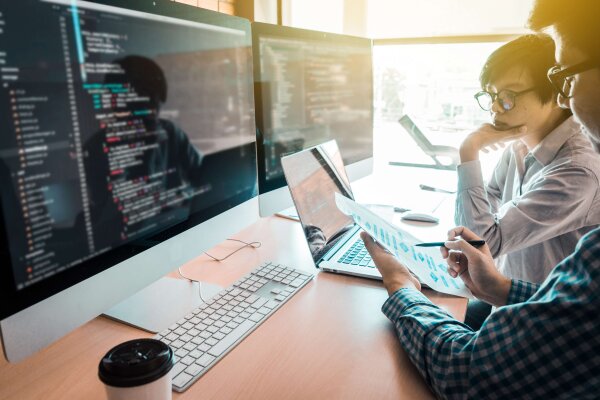 The COVID-19 pandemic has resulted in the temporary closure of companies, with employees being forced to get used to working from home to lessen mobility for virus containment. While some firms managed to get back after months of lockdowns, others unluckily failed to recover from all the losses this crisis caused.
Companies closing mean lesser job opportunities for people from the information technology industry. As companies grapple with keeping their companies operating, developers are often seen subject to furloughs and layoffs. The good thing is that developer jobs are still considered a safe-haven job market as many companies prioritize the improvement and quality of their online presence.
To anyone currently searching for a new opportunity as a developer, here are five tips for your guaranteed employment in this extra difficult pandemic situation.
1. Impress Employers with your Resume
An impressive resume grabs the attention of recruiters and employers, increasing the chance of getting hired. As an aspiring developer, you have to stand out among other applicants, so be sure to update and revise your resume. It should cast an impression of your desire to have a long-term opportunity in the IT industry as a developer. Be sure to highlight strengths, achievements, and capabilities to demonstrate potential contributions you can offer the company.
Think of the ways to relate previous developer duties to your current application. Also, be sure to double-check the details you included in your resume before submitting it. Being successful in this application would be a long-term benefit. Try to send applications to companies you think would help you grow as an individual and a developer. Choose IT companies that offer growth opportunities, like the Wizardsdev, which hones developer skills through hackathons and various development events.
For fresh graduates or those looking for a developer job for the first time, it would be helpful to include the recognition and developer-related activities you have attended. It would create an impression of how dedicated you can be as a developer.
2. Prepare for virtual interviews
Looking for a new programming job can be nerve-wracking sometimes. Doing the needed preparation for the interview will help lessen the tension you may feel in the situation. As the COVID-19 pandemic lingers, virtual interviews are starting to be a new norm for screening developer candidates. Job employment companies like Indeed and Jobstreet even believed that this online assessment process would stick post-pandemic. To be ready for this virtual interview, here are the things you should keep in mind:
Check and Double-Check Technical Equipments
For the virtual interview, be sure to check if your computer's camera and microphone are working well. Do a test on the software programs (Google Meet, Hangouts, Zoom) to use in the interview, and see if the internet connection will not cause distractions.
Be presentable
It is still important to look your best despite the interview being conducted virtually. Present yourself the same way you would in a face-to-face interview. It will not only give you additional points for looking professional, it will also make you feel more confident and prepared.
Do your Research
Nothing can go wrong if you have enough preparation, so be sure to do your research about the IT company you applied to. Being unsure of your answers in the interview would lessen your chance of being hired as a developer.
Limit distractions
Look for a place in your home with the least possible cause of distractions. It will be ideal if it is clean and professional-looking. This can also help the interviewer focus their attention on you. Be sure to remind your housemates of your virtual interview and respectfully tell them to avoid distracting you with their noises.
3. Make use of your free time by improving your skills as a developer
As mentioned, putting achievements and training attendance would help make an impressive resume. While still in the process of looking for the perfect opportunity, be productive and use your free time in learning additional expertise and getting certifications through online courses to help improve your skills as a developer. A progressive global company, Wizardsdev, provides hands-on experience in the craft through its training programs. It makes sure that individuals attending its programs do not only get their goal of having additional certifications. It also tries to discover abilities and hone the skills you already have as a developer.
4. Look for work-from-home developer opportunities
A majority of businesses today is expected to function remotely as the new normal amid the COVID-19 pandemic. Business heads are on the lookout for technologies and tools to facilitate their online operations. As a bigger sign of hope, developer roles are job opportunities that can be easily transferred to remote work. Take this as your chance to look for work-from-home developer jobs. This setup is less stressful compared with working in the office, plus you can have the privilege of having a flexible time. To assure your productivity as a developer, be sure to have a space conducive to working and concentrating, dependable internet providers, and various systems and tools you need as a developer.
5. Be patient
The odds might never always be in our favor. Your dream as a developer may not come as easily as you want it sometimes, but that is just part of the process. Throughout your journey of landing that developer job, there might be numerous rejections, which, if successfully treated as learning experiences, should bring you to a developer role you more than hoped for. So, keep trying. Be patient and persistent in your application. Look for additional ways to improve your credentials and master interview preparations. Make a better LinkedIn profile, too. This way, there is a higher chance of being noticed by employers and recruiters. The option of connecting with former colleagues and classmates would also help in having more developer opportunity choices as these people can help in finding the position you are looking for.
The COVID-19 pandemic has brought so many challenges and is still giving the seemingly constant feeling of uncertainty. However, it should not prevent us from pursuing the things we want in life, even if it means we have to adapt and adjust with the new norms it caused.