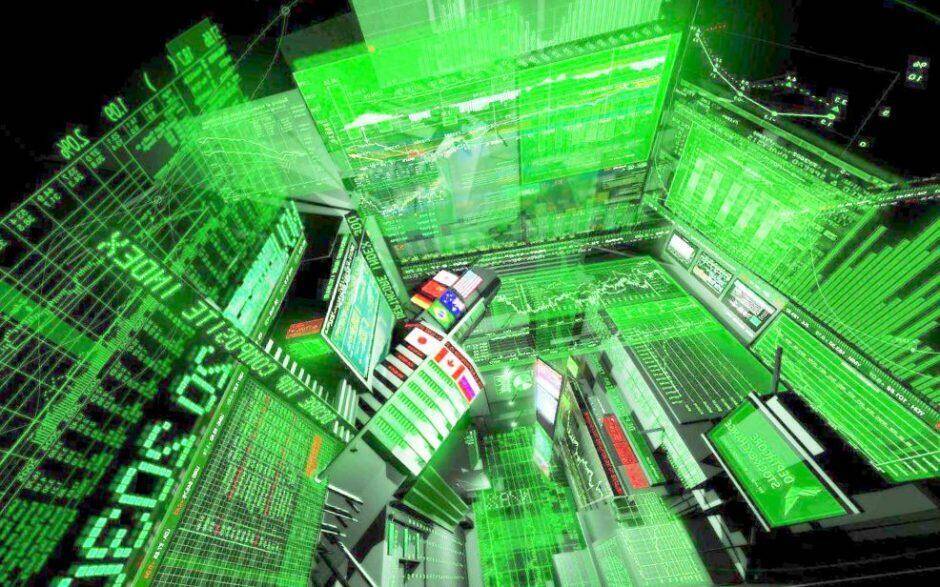 GCI is a forex and CFD broker focused on superior trading and customer service conditions. It provides spreads as low as 1 pip, interest charged on the balance of your account, direct interbank (ECN) trading access, and the lowest margin criteria. You can conveniently trade from your Laptop, Mac, web browser, iPhone, or other mobile device using GCI's advanced apps, whether using MetaTrader or ActTrader.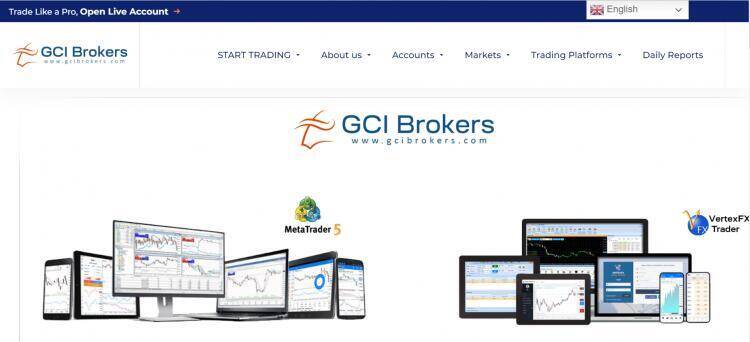 GCI Background & Safety
GCI Financial LTD operates and owns the GCI online trading site. Since 2002, GCI Financial has served around the world effectively reflected through its numerous industry recognitions and awards. GCI is also internationally recognized as one of the leading foreign exchange market makers and business research and analysis providers. The work of GCI appears on Multex.com and Reuters on a daily basis and is supported by major organizations, including J.P. Morgan, G.E. Money, Lazard Asset Management, UBS AG, and Goldman Sachs, respectively.
GCI boasts of its claimed advantages over its competitors which include zero commissions and narrow spreads, fast and fair execution, lowest margin requirements, and a large range of tradable products.
In terms of the safety of client funds, funds deposited with GCI are kept safely at top-tier banks. GCI manages client assets separately from operating resources, ensuring that even in the unlikely event of a GCI bankruptcy, client accounts remain secure. More so, GCI maintains a balance sheet with Net Capital in excess of most minimum regulatory requirements.
On its well-designed official site, GCI does not display any information about its regulatory status. This means that the broker is unregulated by any financial regulatory body. It also did not specify where its head office is situated, leaving rooms for speculations about the broker's credibility and legitimacy.
On another crucial detail about the broker, note that GCI services are not available in certain countries including Afghanistan, Bosnia and Herzegovina, Cuba, Eritrea, Ethiopia, Iran, Iraq, Kyrgyzstan, Lao PDR, Libya, North Korea, South Sudan, Sudan, Syria, Vanuatu, Yemen, Uganda or the United States of America.
GCI Features & Fees
Market Coverage
GCI offers a range of tradable assets covering forex (40 major, minor, and exotic currency pairs), indices (17 world stock market indices), metals (gold, silver, platinum, palladium, and copper), commodities (oil and natural gas, as well as commodity-backed bonds), shares (a range of global shares including Facebook, Deutsche Bank, and Sony), and CFDs. Approximately, the broker has over 300 financial instruments to choose from.
Account Types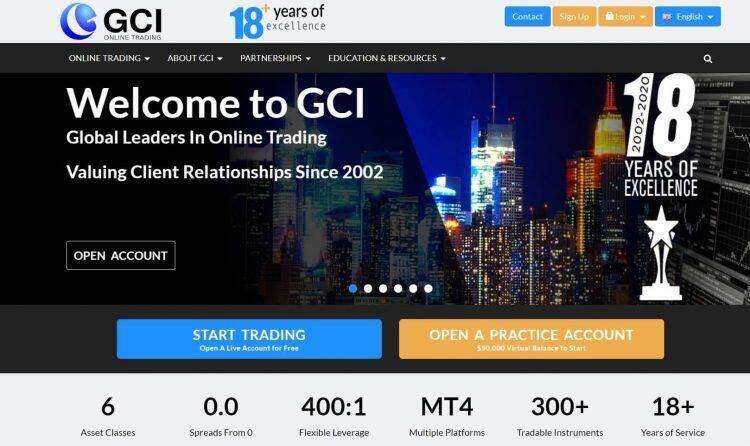 As seen in the above reference, the broker offers you two trading accounts types, based on which trading platform you are to use for your trading.
The ActTrader account is for dedicated currencies and other major financial products traders who would want to be gifted with a low minimum transaction size plus a user-friendly interface. To open this account, deposit no less than $500 and access a trading platform equipped with a robust multi-account management capability using the ActTrader platform.
The MetaTrader account is for traders who have been accustomed to using the industry-popular platform. Opening this account requires a $500 minimum initial funding. Traders using this account have the benefit of trading micro-lots (0.10 lots) to transact. It also features a non-dealing desk instant execution in major currency pairs and no re-quotes as well.
Looking into spreads, the EUR/USD starts from 1 pips and about 2 pips for the GBP/USD and EUR/GBP. Typical spreads start at 3 points on major indices, such as the FTSE and Dax. Spreads on gold and silver are 45 and 5. Both accounts have commission-free spreads. The maximum leverage is 400:1.
Also, both these account types offer a free demo account for traders who wish to test trading strategies without any financial risks.
Funding Methods
GCI accepts several funding methods including bank wire transfers, Perfect Money, Skrill, and Neteller. There are no minimum and maximum deposit amounts while deposit fees only apply to Perfect Money users. There are also no withdrawal fees charged by the broker. The withdrawal form must be duly accomplished and sent to the broker for approval.
GCI Trading Platforms & Tools
As previewed in the account types section of this review, the broker offers two trading platforms in MetaTrader 4 and ActTrader.
Using the MetaTrader 4 platform, traders have access to 30+ built-in technical charting indicators, NDD & ECN order processing, 9 timeframes, and one-click trading. The MT4 platform has a mobile version that is compatible with several devices including Android and iOs.
Leaning on the less-popular ActTrader, traders like you can use several features and functionalities including Back-testing on historical financial data, Real-time account statements, customizable interface, one-click trading, and price alerts. It also has a mobile version compatible with iOS and Android devices.
When it comes to trading tools, GCI parades a good range of education and resources including Forex news, economic calendar, live charts, user manual, trading signals, live quotes, and a number of educational materials.
Bottom Line
Trading with GCI, you can have a choice between two trading platforms, something that a number of brokers don't usually have. You can also enjoy its good set of trading conditions.
On the downside, GCI remains unregulated despite having numerous accolades, affiliations, and partnerships. Its live chat feature also takes time when using, and its set of educational resources are quite outdated.