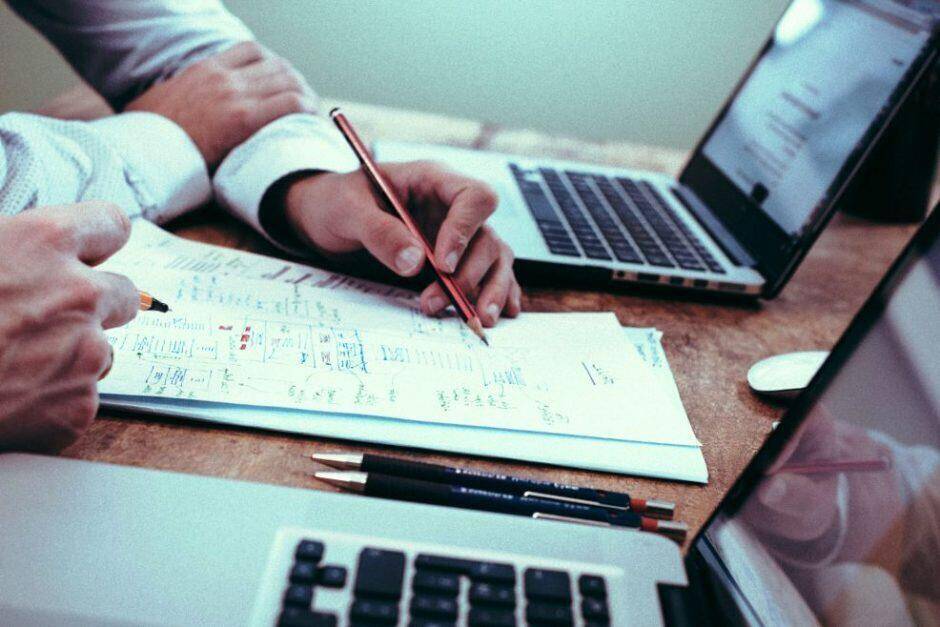 Founded in 2012, Darwinex is a regulated forex broker offering a basketful of assets paired with an advanced set of trading platform options. It also offers social copy trading services to its clients.
Discover the trading features and benefits Darwinex offers to traders by reviewing this broker review.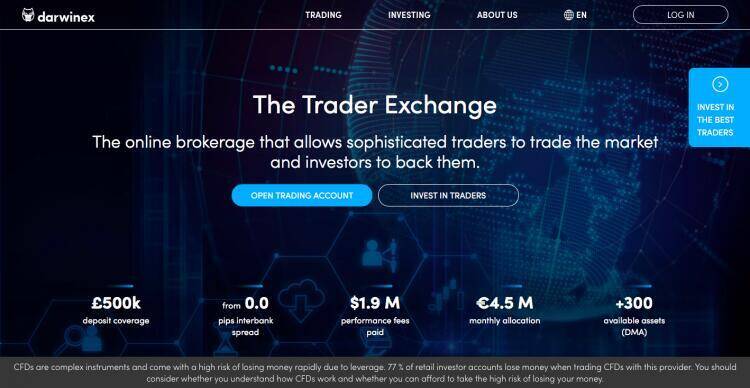 Darwinex Background & Safety
In March 2012, Tradeslide Trading Tech established Darwinex with a mission of helping traders by aligning their incentives with the company and establishing concrete trade offerings including quality trade education, execution, transparency, and investor capital. 
A year after its foundation, Darwinex introduced trading strategy diagnostic algorithms. The firm's technological advancement was followed by a regulatory certification by the Financial Conduct Authority of the U.K. in May 2014. 
Some other innovative features were launched in the succeeding operational years of the broker including DarwinIA Trading Challenge, Darwinex Investor Platform, and Darwinex Reloaded. In 2017, Darwinex reached $3 million AUM and derailed new investments. 
Darwinex is a unique firm as it serves as a hybrid broker and an asset manager. To date, the firm manages nearly 36 million in assets. It also serves as a technology provider.  Aside from its headquarters in London, Darwinex has a development office in Spain. 
To sum up, Darwinex has an average-risk standing, being fully regulated by a major financial institution. Under its MiFID regulatory certification, Darwinex is also of service to the members of the European Union.
Darwinex Features & Fees
Financial Instruments
Darwinex offers 41 currency pairs, CFDs on 10 indices, 6 metals, 5 cryptocurrencies, and 244 shares. In total, the broker has 306 financial instruments to offer to its clients.
Account Types
Darwinex's official site does not have a page for its featured account types. In this regard, the broker only offers a single account type. The minimum initial deposit amount is $500. This initial funding is applicable to both single and joint accounts. The corporate account requires a minimum initial deposit worth $10,000.
Despite having a single account offering, the pricing or commission fees vary depending on the trading platform that the account user will choose. The available spreads under the account are variable spreads and the commission fee is round turn and varies from one currency pair to another.
To test your trading strategies and have a feel of the Darwinex trading environment, the broker offers a Demo account.
Funding Methods 
One good feature of Darwinex as a broker is its 500k Deposit Protection. This is free supplementary insurance that covers FSCS eligible clients up to a total of 500, 000 GBP. 
The broker offers a range of funding methods to its clients. Bank transfer, Visa, Mastercard, Trustly, and Skrill are some of its options. The standard minimum deposit for any of the given options is $500 while the maximum is 5,000 using Skrill, and 10,000 for credit cards and Trustly. Bank transfers have no maximum deposit amount. In terms of deposit fees, Skrill charges a 0.5% fee while bank transfers depend on the bank of your choice.
For withdrawals, the same options are available, and that Darwinex does not charge withdrawal penalties. However, maximum withdrawal amounts are set for Skrill and credit cards at $5,000 and $10,000 respectively. Commission fees also apply for each option.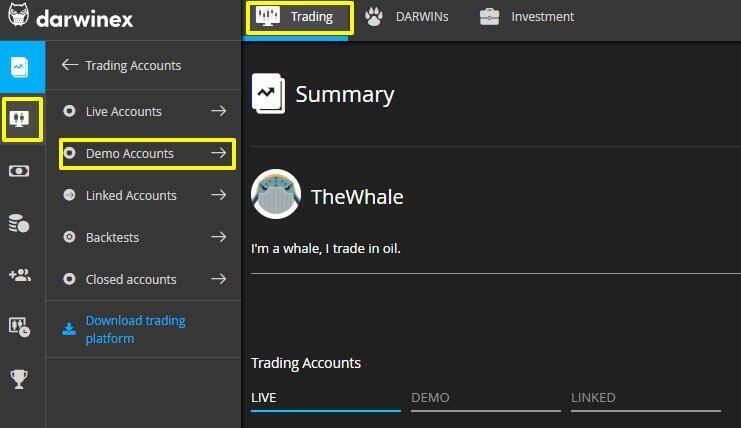 Darwinex Trading Platforms & Tools 
As a technology provider, Darwinex parades its proprietary trading platform. This can be accessed through the Darwin Exchange. The Darwinex platform is HTML5-based trading technology that has an aesthetic design responsible for its ease of use and intuitiveness. The Darwinex platform is armed with a range of quality analysis tools. The platform is also designed to be a social trading platform and features special functionalities including customizable filters and risk-management functions.
Aside from its proprietary platform, Darwinex also offers the MetaTrader platforms. It has MT4 and MT5 trading platforms for traditional and self-paced forex trading. 
Both the Darwinex and MetaTrader platforms make provision for mobile trading. The Darwinex mobile app is modernly designed and possesses almost all the definitive features of the web version. 
The MT4 and MT5 mobile apps provide self-directed trading that the Darwinex platform does not offer. The mobile app is available for iOS and Android devices.
Darwinex has a good set of trading tools dedicated to social trading. Traders are provided with access to various elemental tools for more than 2,000 Darwin strategies. However, it lacks research facilities for basic education and forex research. 
Bottom Line
Darwinex is a good fit for traders looking for a broker specializing in forex strategies offering. Its advanced social trading technology proves to be an advantage to traders. Expert traders are surely in good hands at Darwinex.
However, a lack of research facilities is a disadvantage for beginning traders.